1. Orange Is The New Black
Orange Is the New Black has felt like it ought to have been over for two or three years now. The progressive dramatization about a ladies' jail lost its way in its past couple seasons, facing huge challenges that either felt excessively implausible or basically commonplace. In any case, with a last seventh season, the Jenji Kohan creation reminded everybody why OITNB is ostensibly the most progressive show of the spilling age. Without precedent for years, 13 scenes felt excessively short—not on the grounds that it neglected to wrap up accounts, but since the arrangement's blistering discourse on ICE, movement, and the direction of detained ladies was dazzling to the point that it felt like an important review. When one year from now's Emmy selections come around (the arrangement didn't make a big appearance so as to be viewed as this year), get ready for a large number of assignments. What's more, those won't be salutary arrangement finale gestures; each one is earned.
2. Fleabag Movie
Fleabag is an enrapturing, tight, smart TV that completely epitomizes what the medium can do in 2019. Following Phoebe Waller-Bridge's main charActer, the arrangement follows a lady in the throes of losing her closest companion and mother, keeping up a stressed association with her family, all while nursing it with unashamed sex. Season Two duplicates down on her obscurely comedic take a gander at the pain, mindfulness, and misfortune. What makes Fleabag so significant in 2019 is the means by which sincere it presents itself. Waller-Bridge's Fleabag is unashamed in regards to her realism, cutting out another spot for an adorably unlikable courageous woman whose large journey is basically walking through the horse crap of consistently. Fleabag feels so genuine that it verges on the purpose of self-portraying, and when an anecdotal creation feels like it was brought into the world inside the watcher's psyche, that is ground-breaking narrating.
3. What We Do In The Shadows
Taking an ongoing faction exemplary like What We Do in the Shadows and transforming it into a tv show could have been a major disappointment. Yet, what works for this film-to-tv move specifically is that the vampire-turned-for the most part great account is established in unadulterated appeal. That by itself could be the reason the show hasn't lost a stage in the change. From the beginning, What We Do in the Shadows catches the environment and amusingness of Taika Waititi's adored mockumentary, and proceeds with his reality working for a boundless half-hour satire premise. Conveying the composing staff over to the little screen helps keep the stream while its new stars make the tale of three vampires living in a Long Island manor their own. In a TV scene overwhelm with nervousness prompting turns and dim wannabes, this portion of vampire surrealism on FX has set itself as a standout amongst another new arrangement of 2019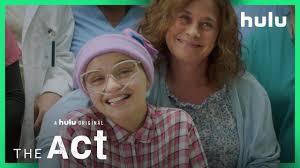 In a developing line up of genuine wrongdoing shows, The Act was somewhat of an unexpected breakout. Featuring Patricia Arquette as a Bayou glamorous lady turned homicide injured individual and Joey King as her seriously sick little girl, not all things are as it appears in this story that turns disease, Munchausen as a substitute, and disdain into an entrancing account of a human pushed excessively far. Arquette's splendor was normal, yet the genuine champion is the more youthful Joey King, who brings an alarming depiction of Gypsy Rose to the arrangement. The truly difficult work for The Act was never going to fall on the composition: the story actually kept in touch with itself. It's the marvelous exhibitions from King and Arquette that hoists The Act from another genuine wrongdoing collection arrangement to a true blue honor contender